A few weeks ago, Annette began talking about visiting Clärchen's Ballhaus. She said it was one of Berlin's oldest dance halls, a place where one could go to ballrooom dance on any day of the week.
Talk of ballroom dancing makes me nervous, but I have learned to mask this involuntary response with stoic enthusiasm: "That sounds interesting. We should check it out sometime."
Annette grew up breaking hearts on the (ballroom) dance floor. She loves to dance, and I am sure that the partners of her youth loved to dance with her.  I am a relative late-comer to ballroom dancing.  My parents offered to sign my brother Tom and me up for ballroom dancing lessons at the New Haven Lawn Club when we were in our early teens, but I considered myself too cool to take advantage of the opportunity.  These days, I am one of the less cool dudes on the ballroom dance floor. The lessons that Annette and I took together in Keene just haven't seemed to stick.
Clärchen's is in the artsy and increasingly upscale Mitte section of Berlin.  Annette and I dressed up and headed over there on a cold and drizzly Sunday evening.  Our goal was not only to check out the dancing, but also to attend a piano concert at the same venue.
As we walked from the subway station toward the ballroom, we passed numerous cozy restaurants and bars, some with clusters of young patrons smoking outside.  I guessed that Annette was thinking what she later articulated: "Wouldn't it be nice if we were living in a neighborhood like this, where there is more going on."  I was tempted to suggest that we grab a drink and dinner at one of these establishments, rather than continue on to dancing and the concert. I wasn't sure what to expect at Clärchens, but I pictured a big dark dance floor with heavily made up and stiffly coiffed elderly couples dancing more gracefully than me.
The building housing Clärchen's is set back from the street. Strings of light bulbs line the walkway through the courtyard to the entrance.  I read later that the entire front of the building had been destroyed in the Second World War, and never rebuilt.  This explained why one had to go outside to get from the first floor to the second.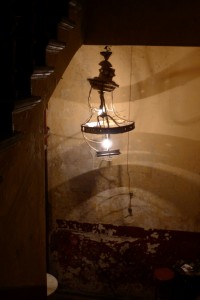 The young woman who greeted us at the door told us that the dancing was winding down in the first floor ballrooom, and she was not sure there would be enough seats for us to attend the concert in the second floor Spiegelsaal, but that we were welcome to join the line that had formed heading up the stairs. I got in line while Annette went to check out the dance hall.
As I surveyed the stairwell, the first thing that caught my eye was the light fixture hanging above the entry hallway.  It looked like it had suffered a concussion blast in 1945, and hadn't been touched since.
I then saw the five-posted candelabras on the stair landings.
Someone ascending the stairs jostled the woman next to me into a candelabra. Fortunately, her long coat did not catch on fire.  This could be an exciting evening after all, I thought to myself.
I surveyed the others in line, and noticed that my presence probably didn't change the average age; in fact, it was a diverse and stylish crowd.
Annette joined me in the line.  She reported that the dancing was indeed coming to an end in the ballroom, and she reiterated her desire to return when we could participate.  "Sounds like a plan."
When the line advanced, we were able to buy tickets and enter the Spiegelsaal, or Mirror Room.  "Faded glory" was how Annette later described the space.  This was undoubtedly what drew Quentin Tarantino to use the room as a location for his film Inglorious Bastards.
The only electric light came from a circular chandelier of bare bulbs. Candelabras flickered on a few small tables scattered among the tight rows of chairs.  A small woodstove — or was it coal? — adjacent to the grand piano gave at least the illusion of warmth.  The walls and ceiling were various tired shades of brown and gray.  Intricate plaster moldings that stopped abruptly in mid-course accentuated the sense that this room had never recovered from the war.  A handfull of tall, ancient mirrors on opposite walls, with holes that used to house light fixtures, reflected imperfectly back on each other as though reaching into the past.
We laid claim with our jackets to a pair of seats in the back corner of the room, and then joined the line at the bar.  Champagne for the lady, plus a pair of pretzels to tide us both over.
The pianist Natalia Ehwald gave an extraordinary performance of works by Schubert and Schumann.  The music was filled with emotion. Listening to it in that space was enthralling.  I realized that it's easier for me to appreciate a single instrument — in this case the piano — playing classical music than it is for me to absorb an entire orchestra.
At the concert's conclusion, I was reminded that Germans seem to view standing ovations differently than Americans.  Annette and I have been to several concerts here in Berlin that would have been slam-dunks for standing ovations in America.  At this concert, as at the others, the applause went on and on, but nobody stood up.  I resisted the urge.  Eventually, Ms. Ehwald gave an encore.
On our way to the subway after the concert, we passed a small Japanese noodle restaurant that was doing brisk business, and decided to stop in for a late night snack. Most of the patrons appeared to be college students — we were not far from Humbolt University.  Lively conversations and steaming bowls of noodles were just the thing to take the edge off the night's damp cold.  Annette allowed as how, in the next incarnation of her life in Berlin, she might like to live in this Mitte neighborhood, and write.  It could happen…