Last weekend we headed north to the island of Usedom, on the Baltic sea coast.  Most of the island is part of Germany, but the border with Poland runs through its eastern end. During World War II, the Luftwaffe developed its V2 rockets in Peenemünde, a town at Usedom's northern tip.
Usedom is one of the sunniest locations in Germany, and it has lovely beaches.  What were once small fishing villages are now primarily resort towns for a broad spectrum of visitors from Germany and abroad.
When we headed up to Usedom on Saturday morning, Rani got her first practice driving in Germany.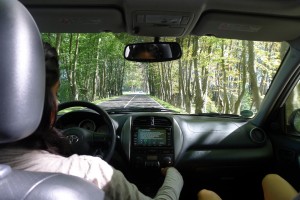 Several miles before the northern bridge onto the island, we ran into a monumental traffic jam.   After not moving more than a mile in over an hour, we gave up on our plans for a picnic lunch on Usedom, turned around, and found our way to the quiet hamlet of Lassan.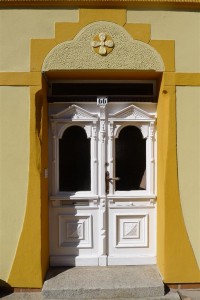 The town dates back to the 1100's when it was established as a Slavic fishing settlement. Annette told me that after World War II, relatives of hers ended up in Lassan after being turned back from the border with West Germany.  From the picturesque harbor we followed a path to a lookout tower with lovely views across the bay to Usedom.  The wind was blowing hard — almost too much for the two kites that Stefan had brought.  But the sun was shining, and we had a fine picnic.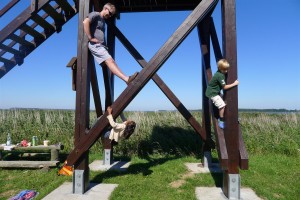 On the way back to the car, I noticed the inconspicuous "Lassan Fishing Museum."  It appeared to be a work in progress that was not progressing, but one of the few boats behind the fence did catch my eye.  It brought to mind the first boat that I built, in my early teens.  That plywood skiff eventually found its true nature as a planter outside a beach restaurant on Nantucket.
Later that afternoon we made our way over to Usedom via a different bridge.  The hotel in which we stayed overlooked a beach that was thickly-populated with Strandkorbs.
On Sunday morning, Annette and I went for a jog and found these boats tied up on the beach.  The double-ended design and lapstrake construction of these surf boats are reminiscent of the life-saving boats that served Cape Cod and the New Jersey coast.  I initially thought that these Usedomer boats might be for life-saving, but it turns out they are stubborn remnants of the local fishing industry.
Situated on the dunes above these boats was a house with slate shingle siding.  An inspiration for the new food co-op building in Brattleboro, VT?
That afternoon we walked a portion of the beach-side promenade between the spa towns of Ahlbeck and Heringsdorf.  These houses showcasing the vernacular coastal spa architecture  were tucked between new hotels and impressive stone villas.  The building-lover in me is inspired by these harmonious and detailed compositions; the contractor in me thinks "maintenance nightmare!"