I can't say that I was enthusiastic about living in Schmargendorf when Annette first mentioned that her online searching had turned up an apartment there.  It's not that I knew anything about the area, but the name made me think of Schmaltz, the solidified chicken fat that is enjoyed spread thickly on slices of brown bread.  My interest in the area was further tempered when I saw on a map how far it is from the more centrally-located, hipper locales like Kreuzberg, Mitte and Prenzlauer Berg. But the location looked like it would work well for Rani's school, and it is close to the Grunewald park.  The apartment itself is wonderful, and — the clincher, in Rani's opinion — the kitchen cabinets are bright red.
Outside the center of the city, Berlin feels to me like a tapestry of towns. As the city expanded over time, it absorbed what had been outlying villages with their own town centers and neighborhoods.  I read that "Schmargendorf" was first recorded as the name of our area in 1354.  Through the 19th century, Schmargendorf was a small farming village on the outskirts of Berlin.  By the turn of that century, the village had its own local administration, and in 1920 it officially became incorporated as part of greater Berlin.
This area's historic town hall or "Rathaus" is adjacent to Mamta's school, one block over from our apartment.  It was built in the year 1900, in a style that is described as "Brick Gothic, with elements of Art Deco."  The building survived WWII largely intact, although the explosion of a bomb nearby blew out the original stained-glass windows.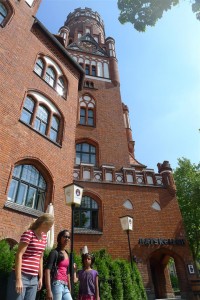 The Rathaus includes a restaurant in the cellar called — what else? — the Ratskeller.  In this case, Rat refers to a council or advisory board — like our hometown of Walpole's governing selectboard — rather than to a rodent.
Our immediate neighborhood takes its name "Roseneck," or Rose Corner, from the rose gardens that abut the main intersection:
Rani catches the bus from Roseneck to her school each morning.  I usually accompany her to the bus stop, and then visit this bakery to pick up fresh rolls.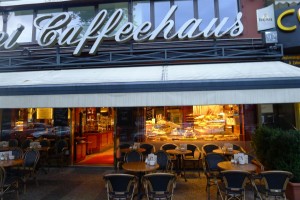 The woman behind the counter is tolerant of my dumb questions:
"Why is this type of roll called 'World Champion'?"
"No idea.  Maybe because they're super delicious?"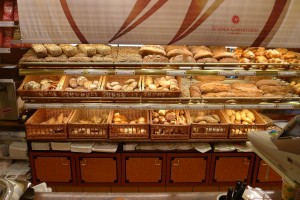 Here is the street on which we live: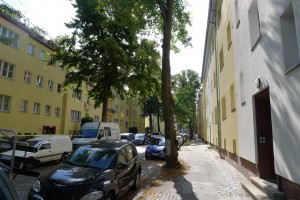 The neighborhood has good restaurants and cafes.  On warmer days, Mamta and I sometimes visit this cafe after school.  She does homework, and I work on my German.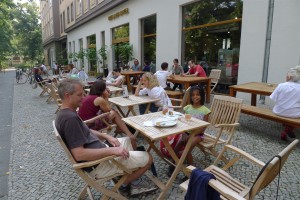 Our neighborhood certainly feels staid compared to some others in Berlin.  There are no stores selling music cds and vinyl, but we do have three hearing aid vendors within a block of our building.  You won't find any tattoo parlors, but there are plenty of shops selling cosmetics and perfumes.  Body piercing, no.  Plastic surgery, yes — this "Klinik fuer Schoenheits Operationen" is right around the corner: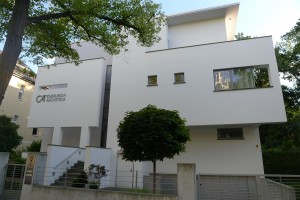 Annette has suggested that there are a few things I might consider getting fixed at the Klinik.
I found this plaque on a building across the street from the Klinik.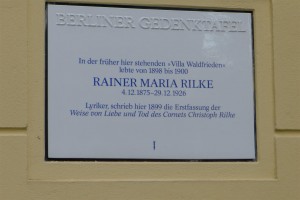 Knowing that Rainer Maria Rilke lived across the street from what is now the plastic surgery Klinik helped to blunt its impact on me.
If the apartment in which we are living was just for Annette and me, we might have opted for another part of the city.  But this neighborhood is working out well for our daughters and their respective schools.  And the fact is, despite any pretensions we might have to the contrary, Annette and I are no longer Bohemian students, nor were we ever urban hipsters.  We are happy to be living in a comfortable apartment next to the city's largest park, with a kitchen that has red cabinets.